At the very apex of the Roaring Twenties, just months before 1929 stock market crash, the Central of New Jersey Railroad inaugurated its twice-daily Blue Comet service between Jersey City and Atlantic City. Heading the fast, luxurious trains were the CNJ's nearly-new Baldwin-built class G-3 heavy Pacifics. Like most railroads in the 1920s, the CNJ had been forced to buy larger motive power to cope with heavier steel trains and increasing patronage. Aging fleets of 4-4-0s, 4-4-2s, and 4-6-0s had become inadequate as business expanded, and the 4-6-2 Pacific type became the standard fast passenger engine on many railroads.
Five G-3 Pacifics, later reclassified as P47 locomotives, headed up the Jersey's famed passenger trains. Three locomotives - painted in a beautiful blue livery with nickel trim and numbered 831, 832 and 833 - covered The Blue Comet's fast schedule along the Jersey shoreline. A fourth G-3, No. 834, was painted green and sped The Bullet between New York City and Wilkes Barre, Pennsylvania. The fifth locomotive, No. 835, wore gleaming black paint and hauled The Queen of the Valley, a deluxe train from New York City to Harrisburg.
Each of these extraordinary locomotives sport Imperial Dress with additional detail and the incredible power and performance of Proto-Sound 3.0.
2019 Volume 1 Catalog
Click HERE to see it online.
---
It's Easy To Add WiFi To Your DCS Layout
Check Out The Quick Start Video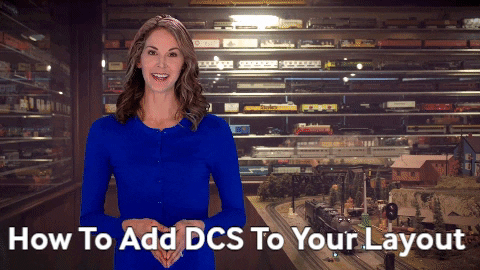 Click HERE To Learn More About DCS and WiFi Control
---