LCT License Expiration Spotlight: 217 Std. Gauge Caboose
May 22, 2019 - The Lionel Corporation Tinplate license expired on May 1, 2019, and each week for the next month or so, we'll spotlight the last items that are still available from select M.T.H. Authorized Retailers. You can learn more about the end of the Lionel license by going HERE.

This week's feature will look at the 217-1 Std. Gauge Bay Window Caboose and the traditional 217 Std. Gauge Standard Caboose. Both caboose styles are completely sold out at M.T.H. Electric Trains and are only available from select M.T.H. Authorized Retailers.

The Origin of the 200 Series

In 1926, Lionel replaced the primitive-looking large-size freight cars it had cataloged for 20 years with the new 200-series standard gauge cars: "Not only are these new cars patterned after the big all-steel cars that carry freight across the country, but they incorporate many original and exclusive features of design that only Lionel can carry out to such perfection… The illustrations clearly show that every known type of modern car is faithfully reproduced by us. It is great fun to convert your 'Lionel Standard' Passenger Train into a big Freighter by adding an assortment of these well-built and handsomely finished cars." The 200-series cars were cataloged as "for use with Locomotives Nos. 380E, 381E, 402E, 408E and 400E," although on one occasion, in the 1930 catalog, they appeared in a De-Luxe set with the smaller 390E steamer.

An all-new bay window caboose debuted in 2015, complete with interior lighting. Long requested by tinplate fans old and new, the Bay Window and Standard 200 Series Caboose make great additions to any Std. Gauge tinplate collection.

Click HERE to see all the offerings and find M.T.H. Authorized Retailers who still have the caboose in-stock.
It's Easy To Add WiFi To Your DCS Layout
Check Out The Quick Start Video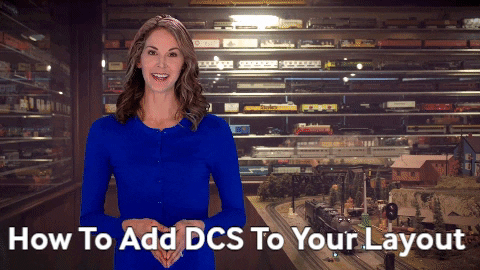 Click HERE To Learn More About DCS and WiFi Control
---
Hurry Before They're Gone, Just Five Or Fewer Of These Tinplate Items Remain In Stock
May 22, 2019 - Each week, M.T.H. releases product lists spotlighting quantities of Five Or Fewer Tinplate Traditions items that are remaining in our on-hand inventory. In many cases, these items will NOT be re-run in the future and these lists could be your last chance for ordering them before they're GONE FOR GOOD. Don't miss out on these items! Click on the product line links below and then any item number in the corresponding list to purchase that item from the M.T.H. Online Store or order directly from your local M.T.H. Authorized Retailer.