2018 HO Scale GP38-2 Diesel With Proto-Sound 3.0 Now In-Stock
Check Out The Quick Start Video
| | |
| --- | --- |
| | October 3, 2018 - Produced from 1972 to 1986, the GP38-2 helped inaugurate Electro-Motive's "Dash-2" series of locomotives and became one of EMD's all-time best sellers. With over 2200 engines sold throughout North America, rare was the railroad that did not roster these reliable, second-generation EMD workhorses. |
Building on the success of the GP38 introduced in 1966, the Dash-2 model looked almost identical on the outside but incorporated a host of internal upgrades that lowered exhaust emissions and improved reliability, ease of maintenance, and tractive effort. Most significant was the replacement of the maze of hard-wired circuits, switches, interlocks, and relays — which had characterized first-generation diesels and had been the source of many of their service issues — with modular, solid-state electronics. Other improvements toughened the pistons, rings, and bearings of the 2000-horsepower, non-turbocharged model 645 prime mover.
The result was an engine so hard working and dependable that it became as common on American railroads as the F-unit was in the 1950s and '60s. Trains magazine recognized this in 1982 by designating B&O GP38 #3802 (a pre-Dash-2 model) as the All American Diesel; the engine resides today in the Baltimore & Ohio Railroad Museum, repainted in its 1982 Chessie System colors. Many GP38-2s have soldiered on for more than three decades and remain in service today on short lines and regional railroads.
New for 2018, this accurately modeled GP38-2 joins our economically priced Ready2Rail lineup in four prototypical paint schemes. While Ready2Rail locomotives have fewer added-on details than standard M.T.H. motive power, Proto-Sound 3.0 versions feature the same versatile electronics and prototypical sounds found in every Proto-Sound 3.0 engine. In command mode, you can operate this second-generation stalwart with any other DCC- or M.T.H. DCS-equipped models. With the DCS system, you can create a lashup with just a few keystrokes, combining one or more GP38-2s with other Proto-Sound 3.0 first-, second-, or third-generation diesels — and run them all from a single throttle just like the prototype.
Click HERE To Learn More About These exciting new releases.
These limited production locomotives can be ordered for immediate delivery through any M.T.H. Authorized Retailer or directly from the M.T.H. Online Store.
---
HO Items Just Released During The Week Of September 23, 2018
October 3, 2018 - To review last week's list of the HO items M.T.H. Electric Trains released during the week of September 23, 2018, click HERE. You'll find these at your local M.T.H. Authorized Retailer.
As always, you can stay apprised of the latest shipping dates by checking the M.T.H. Shipping Schedule. Once items have shipped, use the M.T.H. Product Locator to find a retailer reporting the item in stock.
Hurry Before They're Gone, Just Five Or Fewer Of These HO Scale Items Remain In Stock
October 3, 2018 - Each week, M.T.H. releases product lists spotlighting quantities of Five Or Fewer HO Scale items that are remaining in our onhand inventory. In many cases, these items will NOT be re-run in the future and these lists could be your last chance for ordering them before they're GONE FOR GOOD. Don't miss out on these items! Click on the product line link below and then any item number in the corresponding list to purchase that item from the M.T.H. Online Store or order directly from your local M.T.H. Authorized Retailer.
---
It's Easy To Add WiFi To Your DCS Layout
Check Out The Quick Start Video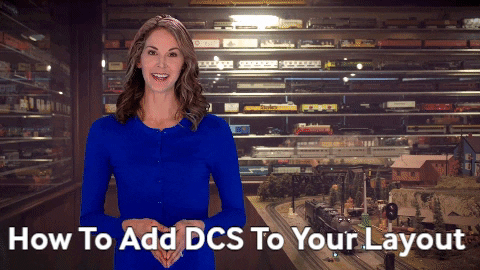 Click HERE To Learn More About DCS and WiFi Control
---
M.T.H. Electric Trains is releasing a limited run of smart phone cases for popular iPhone and Samsung Galaxy models this Fall. Club Members save $5.00 off the regular suggested retail of $15.99 each.
Click HERE to learn more. Don't miss this opportunity to show off your M.T.H. pride. To order your case today, call the M.T.H. Sales Department at 410-381-2580 (option 1) and reserve yours.