The Norfolk Southern operates a fleet of 20 Heritage freight diesels, honoring "fallen flag" railroads that have been merged into the NS. The ES44AC shown on these pages honors the Southern Railway, whose freight cars proudly carried the slogan "Southern Gives a Green Light to Innovation."
On its Heritage diesel website, the NS honors the Southern's history: "Southern Railway originated as the South Carolina Canal and Rail Road Company in 1827. On Christmas Day, 1830, it put into service the nation's first regularly scheduled steam passenger train, "The Best Friend of Charleston." Southern was incorporated in 1894 from the reorganization and consolidation of numerous predecessors, and absorbed another 68 railroad companies over the next six years.Our Southern Railway Heritage unit was unveiled in Chicago on July 15, 2006."
At the heart of the Evolution Series is a brand new prime mover, the four-cycle, 12-cylinder GEVO-12. While producing the same 4400 horsepower as its 16-cylinder FDL-series predecessor, the GEVO-12 uses less fuel and spits out 40% fewer emissions. GE claims the EVOs are "the most fuel-efficient, most environmentally friendly diesel locomotives in history." Everything about these locomotives has been examined, questioned, and re-thought, generating 25 new U.S. patents in the process. And every Big Six railroad has ponied up to buy them, with the BNSF currently rostering the largest EVO fleet.
Like our debut RailKing Imperial diesel, the SD70ACe, the ES44AC comes accurately decorated in modern motive power paint schemes. Our near-scale model is a full 17" in length, yet operates comfortably on O-31 curves. Under the hood of the Proto-Sound 3.0 version is the same sound and control system found in our more expensive Premier model of this locomotive this locomotive, with sounds recorded from the actual prototype. Additional Imperial features include operating diesel exhaust smoke and flashing ditch lights. If you're looking for realism and a lot of fun at a RailKing price, it doesn't get any better than this!
2019 Volume 1 Catalog
Click HERE to see it online.
---
It's Easy To Add WiFi To Your DCS Layout
Check Out The Quick Start Video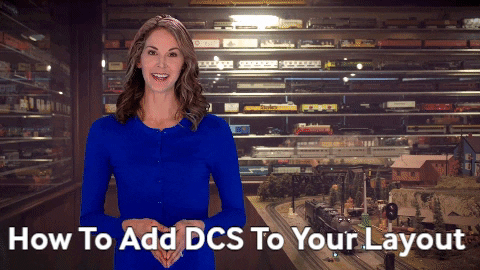 Click HERE To Learn More About DCS and WiFi Control
---