RailKing O Gauge P47 Pacific Steam Locomotives
Check Out It Out In Action In All-New Video
| | |
| --- | --- |
| | February 5, 2019 - At the very apex of the Roaring Twenties, just months before 1929 stock market crash, the Central of New Jersey Railroad inaugurated its twice-daily Blue Comet service between Jersey City and Atlantic City. Heading the fast, luxurious trains were the CNJ's nearly-new Baldwin-built class G-3 heavy Pacifics. |
Like most railroads in the 1920s, the CNJ had been forced to buy larger motive power to cope with heavier steel trains and increasing patronage. Aging fleets of 4-4-0s, 4-4-2s, and 4-6-0s had become inadequate as business expanded, and the 4-6-2 Pacific type became the standard fast passenger engine on many railroads.
Five G-3 Pacifics, later reclassified as P47 locomotives, headed up the Jersey's famed passenger trains. Three locomotives - painted in a beautiful blue livery with nickel trim and numbered 831, 832 and 833 - covered The Blue Comet's fast schedule along the Jersey shoreline. A fourth G-3, No. 834, was painted green and sped The Bullet between New York City and Wilkes Barre, Pennsylvania. The fifth locomotive, No. 835, wore gleaming black paint and hauled The Queen of the Valley, a deluxe train from New York City to Harrisburg.
Each of these extraordinary locomotives sport Imperial Dress with additional detail and the incredible power and performance of Proto-Sound 3.0.
You can see the locomotives in action on video by clicking HERE.
These locomotives are still available from your local M.T.H. Authorized Retailer. They can also be ordered from the M.T.H. online store by clicking on the item number when you go HERE.
---
RailKing One Gauge G Scale Dash-8 Diesel Engines Now In-Stock
Check Out The Quick Start Video
| | |
| --- | --- |
| | January 30, 2019 - In the late 1980s, as General Electric and General Motors' Electro-Motive Division engaged in heated competition (that continues today) for market share in the high horsepower category, GE announced its Dash 8 line of diesel locomotives. |
Although the first demonstrator version had only 3,200 hp, most of the Dash 8s had 4,000 hp when delivered and were therefore designated Dash 8-40. Because GE builds its diesel locomotives in five modules, it was able to customize its Dash 8s for each buyer to an unusual degree.
Some railroads ordered their Dash 8s with conventional cabs, while others opted for the wider North American or comfort cabs, identified by a "W" in the engine name. Some Dash 8s have 4-wheel trucks — denoted with a "B" — while a Dash 8-40C has 6-wheel trucks. This variety meant that these diesels, which were designed for fast freight duty, also found a home in Amtrak passenger service. Despite their many differences, all Dash 8s share microprocessor control. The microprocessor, a small computer, regulates rpm, fuel injection volume, generator excitation, and many other operational features to make the Dash 8s run more efficiently than any diesels before them.
You can see the locomotives in action on video by clicking HERE.
Click HERE to learn more about these latest releases.
These limited production locomotives can be ordered for immediate delivery through any M.T.H. Authorized Retailer or directly from the M.T.H. Online Store.
---
HO Dash-9 Diesel Locomotives
Check Out It Out In Action In All-New Video
| | |
| --- | --- |
| | February 6, 2019 - For the first six decades of the diesel era, the main goal of locomotive design was higher horsepower. Introduced in 1993, GE's 4400 hp Dash 9 and its AC-motored sibling, the AC4400CW, were three times as powerful as a typical first-generation diesel and had 10% more horsepower than their immediate predecessor, the Dash 8. |
A couple years later, GE and then EMD introduced 6000 hp engines, the first single-unit diesels to equal the power of the last and best steamers.
But what was thought to be a breakthrough turned out to be a flop. By the late 1990s, North American railroads had rejected the 6000 hp concept and concluded that the 4300-4400 hp diesel was the Goldilocks locomotive — not too big, not too small, but a versatile, just-right building block for multiple-unit lashups. The horsepower race was over.
The Dash 9, accordingly, turned out to be a best-seller. with more than 3600 engines sold by the end of production in 2004. It was the last and best of GE's third-generation diesels, the generation in which computers were integrated into nearly every locomotive function, from engine management to traction control to spotting and reporting maintenance issues. Instead of looking at dials and gauges, a modern engineer monitors computer screens. The Dash 9's successor, today's GE Evolution Series, helped usher in the diesel era's fourth generation: still 4400 hp, but a 21st century "green machine" with a much smaller carbon footprint.
While this new model is not the first HO replica of the Dash 9, we believe it is the best. From the shock absorbers and brake lines on its HiAd trucks, to its windshield wipers, MU hoses, and metal grilles, our Dash 9 is loaded with accurate, added-on detail parts. Proto-Sound 3 models include flashing ditch lights; smooth performance from a three-scale-mile-per-hour crawl to full throttle; "cruise control" for steady speeds regardless of curves, switches and grades; built-in decoders for DCC and the M.T.H. Digital Command System (DCS); remote uncoupling anywhere on the layout; and a full range of sounds recorded from actual prototype engines, our Proto-Sound models are more fun to operate than any other HO locomotives.
You can see the locomotives in action on video by clicking HERE.
These locomotives are still available from your local M.T.H. Authorized Retailer. They can also be ordered from the M.T.H. online store by clicking on the item number when you go HERE.
M.T.H. Show Schedule For Week of February 3, 2019
M.T.H. Electric Trains will be attending the World's Greatest Hobby On Tour Show on February 9 - 10, 2019 at the Mid America Center in Council Bluffs, Iowa.
HO, S Scale, O Scale, One Gauge and tinplate model railroading fans in the Philadelphia area attending the event will have an opportunity to meet and ask M.T.H. Representatives questions about the M.T.H. product line, company direction and future plans as well as see product demonstrations and pick up a copy of our latest catalogs.
Saturday, February 9, 2019: 10:00am - 6:00pm
Sunday, February 10, 2019: 10:00am - 5:00pm
If you are interested in seeing a list of all the M.T.H. shows we will be attending over the next few months, CLICK HERE.
---
O Gauge Items Just Released During The Week Of January 27, 2019
February 6, 2019 - To review last week's list of the O Gauge items M.T.H. Electric Trains released during the week of January 27, 2019 click HERE. You'll find these at your local M.T.H. Authorized Retailer.
As always, you can stay apprised of the latest shipping dates by checking the M.T.H. Shipping Schedule. Once items have shipped, use the M.T.H. Product Locator to find a retailer reporting the item in stock.
---
2019 Volume 1 O Gauge Catalog Now Online
Order items through any M.T.H. Authorized Retailer.
---
It's Easy To Add WiFi To Your DCS Layout
Check Out The Quick Start Video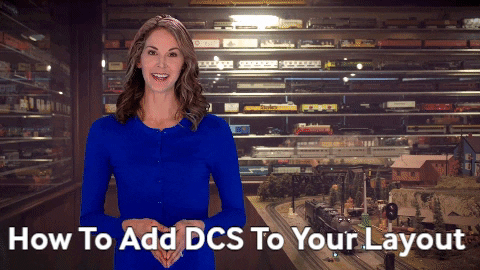 Click HERE To Learn More About DCS and WiFi Control
---
2018-19 Lionel Corporation Tinplate Catalog Released Online
order items through any M.T.H. Authorized Retailer.
---
Hurry Before They're Gone, Just Five Or Fewer Of These Items Remain In Stock
February 6, 2019 - Each week, M.T.H. releases product lists spotlighting quantities of Five Or Fewer items that are remaining in our onhand inventory. In many cases, these items will NOT be re-run in the future and these lists could be your last chance for ordering them before they're GONE FOR GOOD. Don't miss out on these items! Click on the appropriate product line link below and then any item number in the corresponding list to purchase that item from the M.T.H. Online Store or order directly from your local M.T.H. Authorized Retailer.