If you've been a fan of our traditionally themed Halloween cars over the past 10 years, then this locomotive is the perfect way to build your very own Halloween train. With its spooky sounds and synchronized puffing smoke, this 4-6-2 streamlined Crusader makes a great header to your Halloween car collection — no matter whether you've got every car in the series or are just starting out.
The Crusader's unique colors and streamlined styling will make a welcome addition to any O Gauge fan's layout or collection. Featuring die-cast metal boiler, tender and chassis construction, the Crusader sports all the standard features O Gaugers have come to expect in a RailKing steam locomotive including metal drive wheels, gears and rods, remotely controlled Proto-Coupler, synchronized puffing ProtoSmoke and a precision flywheel-equipped motor with M.T.H.'s industry-leading speed control. If you're looking for a locomotive to compliment your holiday décor, and powerful enough to pull all of our traditional Halloween cars, it doesn't get any better than this. Turn down the lights and run your own Halloween Special!
The Halloween Crusader is available for order now through any M.T.H. Authorized Retailer or directly from the M.T.H. Website.
To see the entire 2018 Halloween Lineup, click HERE.
---
York TCA Meet Seminar Schedule - October 2018
October 10, 2018 - M.T.H. Electric Trains will be including seminars covering the DCS Digital Command System for WiFi control as part of our exhibit at the Fall York TCA Meet in York, Pennsylvania during this October's event.
The seminars will be held in the conference room of the Orange Hall (located down the right hallway when entering from the lobby doors). There will be seating for approximately 30 people for each seminar. Each session will last approximately one hour including a Q and A session with the seminar presenter. If you are interested in attending any of these FREE sessions, you must sign up for them by clicking on the links below.
SEMINAR SCHEDULE
Seminar 1: An Introduction To The DCS Digital Command System - Hosted by Barry Broskowitz
Seminar 2: Transitioning To The DCS WiFi System - Hosted by Jason Wenzel
Seminar 3: Advanced DCS Features & Functions Using DCS WiFi - Hosted by Barry Broskowitz
You can find more information about joining the TCA or registering for York by visiting www.traincollectors.org
---
2018 Freight Car Design Contest Winners Announced
October 10, 2018 - M.T.H. Electric Trains has revealed the winners of the 2018 Freight Car Deco Design Contest featured in the 2018 Volume 2 Catalog.
Last April we invited you to dig into your files, archives or library — or your desk drawer — and send us the prototype paint schemes you've always wanted to see on a Premier or RailKing freight car. We received 122 entries, more than for any previous M.T.H. contest. In total, four winners caught our eye as cars we'd definitely like to own.
Look for these cars in upcoming M.T.H. catalogs. And while they didn't win, a number of other entries may also appear as future RailKing and Premier offerings. Each of our winners will receive $100 in M.T.H. rolling stock of their choice, as well as their winning entry when it is produced. Non-winners will also receive a model of their car if it appears in a catalog within the next three years.
CLICK HERE to see all four winning entries!
---
Hurry Before They're Gone, Just Five Or Fewer Of These O Gauge Items Remain In Stock
October 10, 2018 - Each week, M.T.H. releases product lists spotlighting quantities of Five Or Fewer Premier and RailKing items that are remaining in our onhand inventory. In many cases, these items will NOT be re-run in the future and these lists could be your last chance for ordering them before they're GONE FOR GOOD. Don't miss out on these items! Click on the appropriate product line link below and then any item number in the corresponding list to purchase that item from the M.T.H. Online Store or order directly from your local M.T.H. Authorized Retailer.
Order The Fall 2018 Special TCA York Car Before They Sell Out
October 10, 2018 - M.T.H. Electric Trains has announced its 32nd TCA York Show collector box car to be sold at the TCA York Show in York, Pennsylvania on October 18, 19, and 20, 2018.
Like the previous 31 cars sold in the York Car series, the latest edition will again be a Premier Line model and the 30th in our "Catalog Series" - this time featuring the cover of our 2019 Volume 1 Premier & RailKing Catalog which will be released in October 2018.
As in the past, a very limited number of these cars will be produced and will be sold on a first-come, first-served basis for $40.00. MTHRRC Members attending the York show can purchase the car for $35.00. The car can be purchased at the M.T.H. booth in the Orange Hall.
Interested, MTHRRC and non-MTHRRC Members can speed up the time spent waiting to pickup your car by pre-ordering it from the M.T.H. Sales Department. NOTE If ordering the car in advance, you MUST attend the York show and personally pick up your car. Cars will NOT BE SHIPPED to show attendees who fail to pick them up at York.
Orders can be placed by calling 410-381-2580 and connecting to the Sales Department.
---
It's Easy To Add WiFi To Your DCS Layout
Check Out The Quick Start Video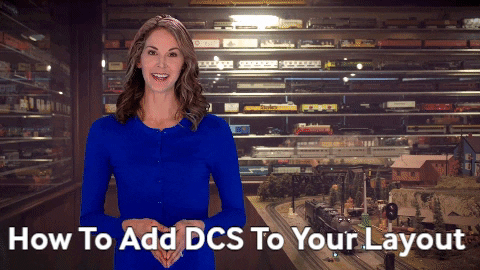 Click HERE To Learn More About DCS and WiFi Control
---
2019 Volume 1 O Gauge Catalog York TCA Meet Pickup
October 10, 2018 - M.T.H. mailing list subscribers, M.T.H. Railroaders Club members (MTHRRC) and any others attending the 2018 Fall TCA York Meet in York, Pennsylvania can avoid the wait for the U.S. Postal Service by picking up the 2019 Volume 1 Premier & RailKing catalog and a selection of other M.T.H. previously printed materials beginning Thursday, October 18th at 12:00 noon.
To simplify the pickup process for any of our catalogs at the show, we've included an online form that readers can print out and fill out prior to coming to the show. Bring the completed form and we will be able to process you faster through our catalog pickup line.
CLICK HERE for the CATALOG PICKUP FORM