Uncataloged O Gauge Premier U.S. Army Flat Cars w/PUP Trailers Released
January 9, 2019 - M.T.H. Electric Trains has released two uncataloged Premier O Scale Flat Cars w/PUP Trailers in U.S. Army livery exclusively for M.T.H. Authorized Retailer Stockyard Express. Each car is limited in production and is only available directly from Stockyard Express for just $74.95 (Plus Freight)
Item No. 20-95330 U.S. Army (Ordinance) Flat Car w/(2) PUP Trailers
MSRP: $74.95
Item No. 20-95331 U.S. Army (Medical Division) Flat Car w/(2) PUP Trailers
MSRP: $74.95
Stockyard Express
49293 Plate Road
Oberlin, OH 44074
(440)774-2131
www.stockyardexpressllc.com
Email: stockyardexpress@aol.com
---
The Z-4000: Back In Stock With Power At About A Dollar A Watt
January 9, 2019 - Conventional or Command Control operators have chosen the Z-4000 transformer as their go-to transformer for nearly 20 years. The industry's most powerful UL listed transformer, the Z-4000 delivers 400 watts of continuous power at about a $1.00 per watt. There simply is no better, affordable power supply for AC model railroads than the M.T.H. Z-4000.
| | |
| --- | --- |
| | Equipped with two smooth-operating, wide-range 10amp throttles to let you power two different tracks, the Z-4000 lays down up to 22 volts AC onto each track it controls. Bright LED displays monitor voltage and amperage outputs for each channel while the fast-acting resettable circuit breakers protect your trains and accessories from damaging voltage spikes. |
A built-in cooling fan keeps the unit's internal circuits running at max capacity for hours of continous operation making the Z-4000 a great choice for club layouts, public displays and home layouts alike. Two separate accessory outputs are included making it easy to provide 10 - 14 volt continous AC output for trackside accessories, switches, lighting and more.
Simply put, a single Z-4000 will power a lot of layout!
Purchase the Z-4000 from the M.T.H. Online Store or order directly from your local M.T.H. Authorized Retailer.
---
RailKing One Gauge G Scale Dash-8 Diesel Engines Now In-Stock
Check Out The Quick Start Video
| | |
| --- | --- |
| | September 26, 2018 - In the late 1980s, as General Electric and General Motors' Electro-Motive Division engaged in heated competition (that continues today) for market share in the high horsepower category, GE announced its Dash 8 line of diesel locomotives. |
Although the first demonstrator version had only 3,200 hp, most of the Dash 8s had 4,000 hp when delivered and were therefore designated Dash 8-40. Because GE builds its diesel locomotives in five modules, it was able to customize its Dash 8s for each buyer to an unusual degree.
Some railroads ordered their Dash 8s with conventional cabs, while others opted for the wider North American or comfort cabs, identified by a "W" in the engine name. Some Dash 8s have 4-wheel trucks — denoted with a "B" — while a Dash 8-40C has 6-wheel trucks. This variety meant that these diesels, which were designed for fast freight duty, also found a home in Amtrak passenger service. Despite their many differences, all Dash 8s share microprocessor control. The microprocessor, a small computer, regulates rpm, fuel injection volume, generator excitation, and many other operational features to make the Dash 8s run more efficiently than any diesels before them.
You can see the locomotives in action on video by clicking HERE.
Click HERE to learn more about these latest releases.
These limited production locomotives can be ordered for immediate delivery through any M.T.H. Authorized Retailer or directly from the M.T.H. Online Store.
M.T.H. Show Schedule For Week of January 6, 2019
M.T.H. Electric Trains will be attending the World's Greatest Hobby On Tour Show on January 12 - 13, 2019 at the Greater Philadelphia Expo Center in Oaks, Pennsylvania.
HO, S Scale, O Scale, One Gauge and tinplate model railroading fans in the Philadelphia area attending the event will have an opportunity to meet and ask M.T.H. Representatives questions about the M.T.H. product line, company direction and future plans as well as see product demonstrations and pick up a copy of our latest catalogs.
Saturday, January 12, 2019: 10:00am - 6:00pm
Sunday, January 13, 2019: 10:00am - 5:00pm
If you are interested in seeing a list of all the M.T.H. shows we will be attending over the next few months, CLICK HERE.
---
2019 Volume 1 O Gauge Catalog Now Online
Order items through any M.T.H. Authorized Retailer.
---
Hurry Before They're Gone, Just Five Or Fewer Of These Items Remain In Stock
January 9, 2019 - Each week, M.T.H. releases product lists spotlighting quantities of Five Or Fewer items that are remaining in our onhand inventory. In many cases, these items will NOT be re-run in the future and these lists could be your last chance for ordering them before they're GONE FOR GOOD. Don't miss out on these items! Click on the appropriate product line link below and then any item number in the corresponding list to purchase that item from the M.T.H. Online Store or order directly from your local M.T.H. Authorized Retailer.
---
2018-19 Lionel Corporation Tinplate Catalog Released Online
Order Items through any M.T.H. Authorized Retailer.
---
HO R-17, R-21 and R-22 Subway Sets Now In-Stock
Check Out It Out In Action In All-New Video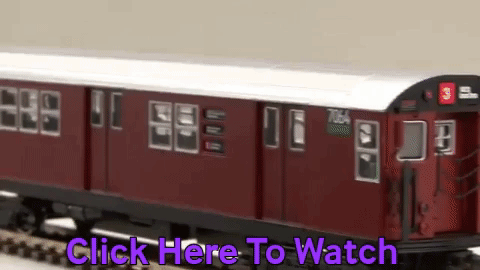 ---
It's Easy To Add WiFi To Your DCS Layout
Check Out The Quick Start Video