The 4-4-0 was the passenger engine of the last half of the nineteenth century. The subject of dozens of Currier & Ives lithographs, the 4-4-0 carried the nation westward, touched cowcatchers at the Golden Spike in 1869, transported millions of Americans out of their home towns for the first time, and hauled a good deal of freight as well. Often beautifully colored and pinstriped, the 4-4-0 steam engine became a symbol of U.S. railroading — so much so that this wheel arrangement was named the "American."
For 2021, this Premier model of the 4-4-0 is decorated as it appeared on the point of America's finest name trains of the 1890s. Pair these engines with our wood-sided coaches in matching paint schemes, and treat your 1/48 passengers to the most luxurious form of land transportation known to man in the late Victorian Era.
LOCOMOTIVE FEATURES
Intricately Detailed, Die-Cast Boiler and Chassis
Intricately Detailed, Die-Cast Tender Body
Authentic Paint Scheme
Real Tender Coal Load
Die-Cast Locomotive Trucks
Handpainted Engineer and Fireman Figures
Metal Handrails, Whistle and Bell
Metal Wheels and Axles
Remote Controlled Proto-Coupler
Prototypical Rule 17 Lighting
Constant Voltage LED Headlight
Powerful Precision Flywheel-Equipped Motor
Synchronized Puffing ProtoSmoke System
Locomotive Speed Control In Scale MPH Increments
Wireless Drawbar
1:48 Scale Dimensions
Onboard DCC/DCS Decoder
Proto-Scale 3-2 3-Rail/2-Rail Conversion Capable
Lighted LED Cab Interior
Proto-Sound 3.0 With The Digital Command System Featuring Quillable Whistle With Passenger Station Proto-Effects
Unit Measures: 16 ¾" x 3 ¾" x 2 ½"
Operates On O-42 Curves
M.T.H. Electric Trains will be releasing several limited-edition releases of the RailKing RS-3 diesel locomotive in four different liveries this Summer. These unique releases are part of a series of products representing the last M.T.H. production runs as the company concludes its 40-year history this year. Each of these offerings is expected to arrive in August 2021.
See the full 2021 collection of RS-3 Diesels HERE.
---
It's Easy To Add WiFi To Your DCS Layout
Check Out The Quick Start Video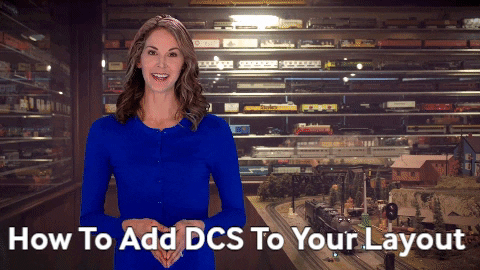 Click HERE To Learn More About DCS and WiFi Control
---